One of the most important aspects of ergonomic design for industrial workplaces is the correct lighting. This is a key factor that affects the performance of employees and the quality of the work they do. In addition, no concessions should be made regarding the consumption of power. Because a sustainable approach to people and the environment also affects the economic efficiencies of companies. TAMETO supports all these principles. And in addition to being can be applied in many different directions because it is extremely flexible, it is also visually attractive and is the most important part of the workstation with all kinds of systems.
Highly homogeneous, non-reflective, vibration-free light
Non-stop dimmable (subject to change), memory function available
The most modern T16 fluorescent bulb or LED technology options are available
Especially durable lamp types with service life of up to 24,000 (T16) or 50,000 hours (LED) and more
Saves up to 60% energy with up to 40% higher lighting compared to conventional compact fluorescent lamps
Fixed or strapped connection on table tops
Available in a variety of lengths for different table widths and lighting requirements
Direct wiring for electrical interconnection of multiple lamps (subject to change)
Additional LED lamps for horizontal installation in a table system
Integrated T-channels for additional hardware options
Closed design for unobstructed environments
Highly durable aluminum housing
World-class workmanship in accordance with Waldmann quality standards

The right design for easy integration
Thanks to its modern industrial design and flat structure, TAMETO improves every workspace. The light output is created so that it does not leave anything in the dark along the entire length of the lamp.
The symmetrical profile design offers independence in situations such as the choice of working side of the lamp. Cleverly designed side parts ensure that the cable path remains flexible and covered, while lamps, cages and coverers are easily accessible.
No dirt particles can enter the enclosed enclosure and are easy to clean. Even models with parabolic covers can be closed with an additional transparent cage (accessories). The two integrated T-channels behind the lamp also provide a wide range of connection options.
And, whether you're using a T16 fluorescent bulb or LED technology, the physical appearance of the lamp will always remain in one piece.
Ergonomic Industrial Workstations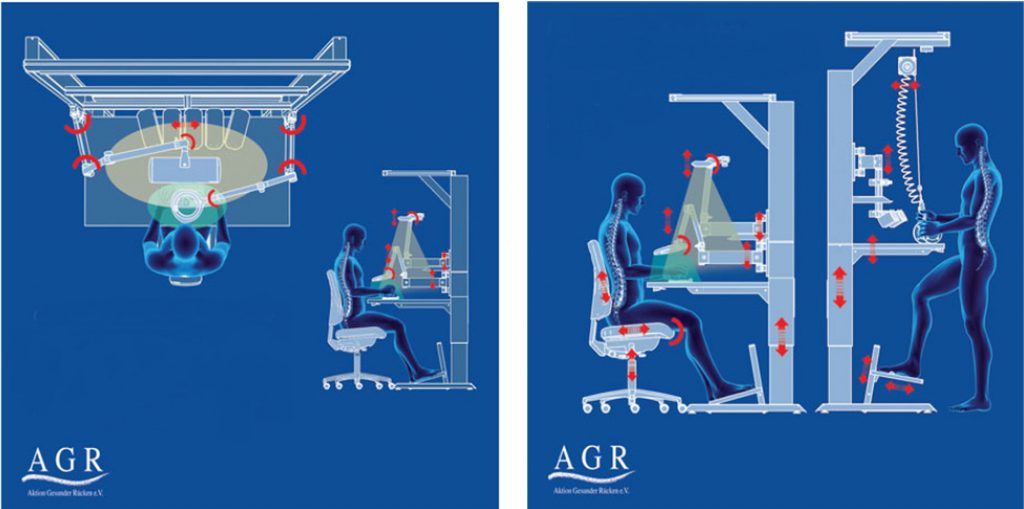 A LIGHTING CONCEPT – INFINITE POSSIBILITIES:
The right lighting technology for every focus
While the workspaces are equipped with lighting technology, they can be made as a low-cost initial investment or with low cost considerations during the service. TAMETO allows for both possibilities: whether available with the most modern T16 fluorescent lamp or the latest LED technology options.
T16 lamps are a low-cost initial investment that saves 45% energy with 40% higher lighting compared to conventional lamps with compact fluorescent bulbs. These lamps have a service life of up to 24,000 hours. However, LED lighting lamps significantly reduce costs over their service life with up to 50,000 hours of service life and 15% lower power consumption. At the same time, Waldmann Light Markup Technology in LED lamps guarantees uniform and non-reflective light.
The right lamp for each workstation
TAMETO is available on the table in both fixed and strap-in connection. In addition, there is a lamp that can be installed sideways in the table system. This makes possible the possibility of many combinations for an ideal lighting solution.
But TAMETO offers much more flexibility: both stationary and suspended lamps are available in different lengths and also in different performance classes. The first is available in 800 lx, 1,250 lx and 1,700 lx models, and the next in 1,250 lx and 1,700 lx models.
BASIC EQUIPMENT AT EVERY WORKSTATION.

For fixed connections, lamps can be flexibly mounted on aluminum profiles, (round) pipes and C-rails using both integrated T-channels at the back or supplied mounting frames. Special models with lengths of 599 mm, 899 mm and 1,199 mm are available for installations requiring precise measurement.
Interconnected workstations are easily connected by models equipped with direct wiring.

TECHNICAL DATA
A brief look at the features
T16 fluorescent bulb or 2, 3 or 4 x LED bulbs
Color temperature neutral white 4,000 K
Conical prism does not reflect thanks to cage or aluminum-treated parabolic cover (T16)
Storage made of colorless anodized aluminum and black plastic cage made of PMMA or parabolic cover made of ABS
Mounting via mounting frame or T-channels (8 mm)
Can be dimmed continuously with or in addition to the switch
System protection IP20, protection class I
Delivery with 3 m connection cable and shock resistant plug or Wieland GST18/3 plug/gland (direct cable models)
Accessories
---
PINAR ENGINEERING INDUSTRY AND TRADE COMPANY,
Address: Perpa Trading Mrk. A Block Floor: 11 No. 1365 Okmeydan – Şişli Istanbul
Phone: +90 (212) 220 02 77
Fax: +90 (212) 220 13 16